What we do
Becker machine engineering company has been a global player in mobile machining for more than 25 years. Our team consists of experienced specialists who regularly demonstrate to customers the excellent results we achieve with our machines. We carry out quality drilling, planing and milling work to your requirements - on site, reliably, promptly and at low cost. Just try us!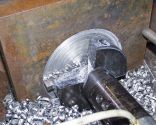 How you benefit from on-site processing
When you produce large steel structures, welding can distort their dimensions. This can be rectified by mechanical machining. We machine your components on site for fast, cost-effective repairs. We can weld to your specifications to restore original measurements.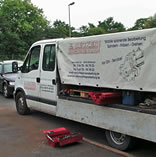 Rapid response
We can step in even at short notice. That's because we have several machines available, and require hardly any preparation work in our Molbergen facility for standard jobs. Our fitters carry all the tools they need with them, so they are always ready to respond to new challenges. They are active throughout Germany, in Europe and even worldwide. If necessary, you can rely on our 24/7 service.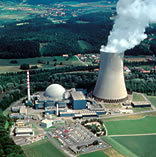 §15 Radiation Protection Law permit
When work is carried out in facilities that require monitoring, e.g. nuclear power stations, there is a risk of exposure to radiation. Companies active in this field must hold a permit in accordance with §15 StrahlenSchutzVerordnung (StrlSchV – Radiation Protection Law) – we hold this permit! Our employees are regularly trained, examined and instructed in the special requirements of this kind of work. Equally important, our fitters are approved according to § 12 b AtG (Nuclear Safety Law), category 1.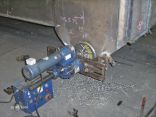 Attachment of our mobile maching systems
The milling frame and mobile drill are fastened to the component to be machined using special mounting devices or clamped or screwed in place. If necessary, we manufacture additional mountings geared to your requirements.

The extremely compact design of our machining systems means they can be used even where space is tight. We balance performance, construction size and speed of deployment so we almost always achieve low-cost machining for the perfect solution.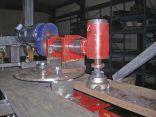 Machines developed by us
Our machines are designed to be used directly on the part to be machined. The modular system means they can be disassembled in just a few moves, which guarantees they can be set up quickly and easily on site. Once assembled, our milling machines are compact and fit into practically any space, no matter how tight.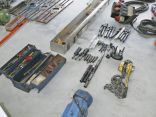 Workshops work
Standard projects require little preparation, but we can also plan bigger projects in our workshop in Molbergen. That can involve more extensive alterations or special designs for specific applications. Especially where space is at a premium, we adapt our machines to your conditions.

All the machines necessary for quickly adapting our own machines are available at our Molbergen workshop.
We are equipped for:
· Turning
· Milling
· Steel cutting and machining
· Welding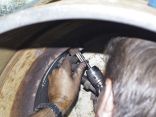 Cast iron repairs
We repair cracks or holes in cast-iron parts using the tie-bar method. This way, we can replace perforated areas with plates, or seal cracks.

The benefits for you:
· Rapid assistance in case of machine failure
· Usually, no dismantling of damaged parts necessary
· Original dimensions frequently restored after the repair
· Repaired area usually more durable than the original
· No heat transfer, i.e. no distortion