Spindle / drilling work
To drill accurate boreholes, we use mobile drilling machines developed in-house. They come in two sizes, so we can always select the right one for the job.

Our small mobile drilling machines can access even tight spaces, while we use the large machines for large borehole diameters. Our versatile shaft system means we can achieve almost unlimited lengths (or depths). That goes for anything from 20 mm to 2,000 mm long.

This also means we can drill double or multiple holes accurately in alignment. If the boreholes are too far apart for our shafts, we use either our high-precision optical, or laser measuring technology.

In this way, we machine individual boreholes in an existing system of multiple boreholes to precise dimensions. To achieve this accuracy, our drill shafts are aligned using adjustable pendulum bearings.

Naturally, we can also drill precision blind holes with our mobile drills. Where necessary, we can accurately machine holes with reamers, or where ultra-high precision is required, we can finish by honing.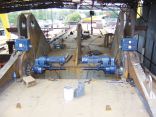 Shrinking sleeves
Also among our services is shrinking sleeves into bores after spindle cutting. To save you hassle, we organise on-time delivery of the nitrogen and the sleeves so you can rely on us for the whole service package. With our insulated mobile nitrogen flasks, we can shrink sleeves up to around 1,000 x 800 mm.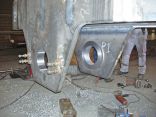 Flat surfaces / recesses
Our mobile drilling machines can machine flat surfaces up to a diameter of approximately 1,400 mm. Using a single machine to produce the flat surface and the borehole guarantees the flat surface is at a right angle to the bore. We also use our mobile milling technology for machining larger flange faces (see section on round milling).

To ensure perfect alignment, the flange is measured using measuring shafts and dial gauges or after spindle drilling with our mobile drilling machine. These machines can also cut grooves and chamfers, either in the borehole or on the flange face.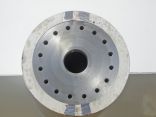 Bolt circles
Cutting precise bolt circles is routine for us. We use a range of magnetic drilling machines to drill bolt circles or generally to drill holes under approx. 50 mm. Then there are our modified magnetic drilling machines that are capable of efficiently drilling deep holes of over 300 mm. We can also use a reverse boring system for spot facing (e.g. flat surfaces for washers) at a right angle to the borehole.

Other applications of our magnetic drilling machines are of course drilling or reaming existing boreholes. Here, we can "repair" wrongly placed bores or bolt circles. According to your wishes, we work with your drilling templates or design and produce our own templates on our CNC plasma cutting system.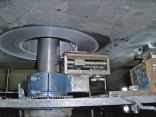 Turning journals
Another use for our mobile drilling machines is externally machining journals. To do this, we set up the mobile drilling machine in front of the journal or shaft end to be machined and remove stock from the circumference. This is how we restore worn bearing faces at low cost and high quality.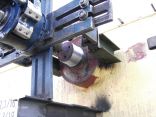 Drilling solid material
With our mobile drills we can drill holes into solid material up to a diameter of approx. 150 mm in one go. To do this, we use a new engineering technology, currently available in this form from only a few companies. For larger boreholes, we can replace the drill with a spindle tool to achieve almost any diameter required. This does not involve significant extra preparation time. The modular tool system means we can drill extremely deep boreholes on site.

Advantages for processing:
• Fast, low-cost and simple
• Drilling up to Ø 150 mm in one go
• Drilling depths up to 15 times the borehole diameter

Tapping
To complete our range of services, we also cut or repair threads in your workshop. That includes re-cutting, re-positioning, newly cutting or repairing threads. Our machines are suitable for cutting almost any thread in situ. Whatever you require – M6 or M60, 2 or 200 threads, we are equipped for the job. Using stainless steel thread inserts, we can even repair torn-out threads. These inserts are larger than the original thread, offering a larger surface area and can therefore bear much higher loads. That ensures the repair lasts longer.