New construction of excavator for Nochten open-cast mine, Germany
Client: Magdeburger Förderanlagen und Baumaschinen GmbH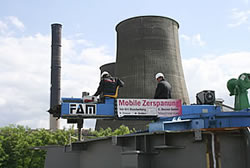 We booked an order from FAM (Förderanlagen Magdeburg) to perform mobile milling work on a new excavator for the coal storage area of Nochten open-cast mine.
What's special about this order is the diameter to be drilled for the ball bearing slewing gear as well as the ring gear for the slewing movement of the excavator.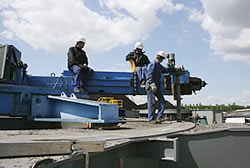 The diameter of the bearing surface of the slewing gear is 8,258 mm / 8,742 mm, and the diameter of the contact surface for the ring gear is 10,280 mm.
We completely overhauled an old drilling machine, extended the arm and converted it from turning to milling operation especially for this project. We upgraded the old drive system using modern AC motors with appropriate variable frequency drives.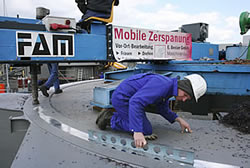 That enables much more flexible control.