Special machine construction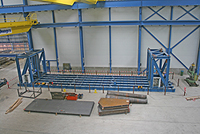 We have already made a name for ourselves worldwide in mobile machining – now we are expanding our scope to include special machine construction.
Responding to orders from two major German steelmakers, we developed and built two milling systems for milling the ends of boiler frame supports flat and even. The support dimensions are 3 x 3 metres, they are up to 18 metres long and weigh up to 140 tons each. We achieve a precision of +/- 0.2 millimetres, which is vital for subsequent assembly of the boiler frame supports, because the total height is more than 170 metres. Our machine is designed for heavy-duty application in steel processing. It consists of three main parts: the machine bed and two milling spindle columns. The columns can be attached in various positions to simultaneously machine the ends of the boiler frame supports. This gives us the capacity to work on different column lengths according to customer specifications.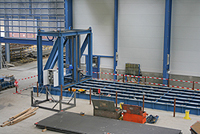 The first machine of this type has been in operation since April 2007, and we are due to install the second at our customer's in the last quarter of this year.
This project benefited from our construction know-how and improvements in our mobile milling machines, which went into developing the milling system. We will be happy to be your partner too in special machine construction and mobile milling.